Energy Inspections
Home Energy Use

Home energy efficiency standards change every year. New technologies, new products, new building materials and practices - these things all combine to improve efficiencies. If all homes today met even the current minimum standards for energy efficiency, they would use 25% less energy, their energy bills would be 25% lower, they would be more comfortable, and their homes would increase in value.



There are not many programs out there to help homeowners to even be cognizant of such standards, nevermind how to implement them in their homes and gain such great savings. CMC Energy Services, Inc., is the nation's oldest and largest residential energy services company. It has developed a program, called Home Energy Tune-uP, that is designed to demonstrate to homeowners just how to do that. They state that the goal of the program is to "bring today's energy efficiency to yesteryear's homes, paid for by tomorrow's savings." Regardless of the status of the real estate market, the need for increased energy efficiency will be around for a long time.
The Goal of the Home Energy Tune-uP
Home Energy Tune-uP is a nationwide, market-driven program designed to provide information on improving residential energy efficiency. Most home improvements are made during the first three months of moving into a home. Home Tune-uP is designed to target the millions of people who buy existing homes each year. The heart of the program is a trained energy inspector who will inspect the details of a home. Tune-uP utilizes software that produces a comprehensive, illustrated report where customers can find:

How much these improvements will cost and what they will save.

Which group of improvements will save more on energy bills than they cost.



A link to the names of contractors and suppliers.

Low-cost financing information.


A list of no-cost or low-cost energy savers, and

Guidance on

indoor air quality

.
The Home Tune-uP report contains all the information that homeowners, home buyers and even realtors need to improve energy efficiencies of a home. It encourages home owners to put their money where their house is!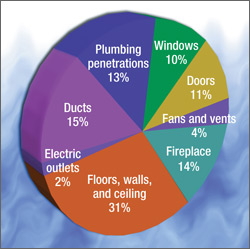 Smart home buyers realize that, at today's energy prices, upgrading the energy efficiency of a home not only improves the home's comfort and increases its value, it also saves more money than it costs. For the average home, which is 35 years old, an investment in energy improvements of about $7,000, tucked into a 30-year mortgage, will save more each month on the energy bill than it will add to the mortgage. In addition, the home owner's tax savings on the interest could be up to $2,000. This is an opportunity that no home owner or home buyer can afford to miss.
Jay Markanich is a certified, home energy efficiency expert and can evaluate your home's energy features. The information gathered is then entered into the Home Energy Tune-uP system, the data are analyzed by the software, and a report is generated tailored to each home. The home's conditions and appliances are analyzed using over 1,000 computer calculations. The report generated provides information and tables specifying the costs, savings and financing eligibility of

energy-efficiency improvements in the home. The homeowner can then evaluate what combinations of improvements, or all of them, or which "what if" tools they can use to save money. The typical Home Tune-uP inspection costs only $300 and is cheap by any measure!



There are not many inspectors certified to perform a Home Energy Tune-uP.
Jay Markanich is one of them!
Give him a call - he will be happy to discuss it with you!


INSIST on Jay Markanich!
Office: 703-330-6388
Cell: 703-585-7560
Jay performs inspections Monday through Saturday, throughout Northern Virginia, from his office in Bristow to Leesburg and Centreville, to Great Falls and Vienna and everywhere in between!