Why Is There Mold On My Wall?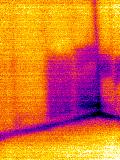 This is a spot on a basement wall AFTER the outdoors as regraded, re-landscaped, had drains installed and downspouts extended. Yet mold was persistently developing. Obviously that purple spot is wet. The moisture meter registered over 30% moisture, which definitely indicates active moisture migration. Looking at the outside there were many things that could have been improved which were not. And moisture is still infesting the foundation wall and this room. This is one of 13 such thermal images in three different basement rooms, so the problems that remain are still extensive.

Posted in
Jay performs inspections Monday through Saturday, throughout Northern Virginia, from his office in Bristow to Leesburg and Centreville, to Great Falls and Vienna and everywhere in between!